Updating / Upgrading your Crypto Currency Wallet is as Easy as 1, 2, 3
Sometimes Updating or Upgrading your Crypto Currency wallet is absolutely necessary. If you don't update your wallet when it is mandatory, you will no longer be able to connect with the network or possibly lose your coins. So it is highly suggested and necessary that you update your wallet as soon as it is made available by the coin dev, Especially if it is listed as Mandatory.
Here are the most common reasons for wallet updates and upgrades:
Mandatory Wallet Upgrades and Updates
New Addnodes for Connecting with Peers
The Dev Created New Checkpoints
A Fork or Updates to the Code
Reward Changes and Modifications
A Broken Source Code that needs Updated or Upgraded
New Features Added to the Wallets Graphic User Interface (gui)
Updated Logo Images
Changes from Proof of Stake or Proof of Work
Here I will give you instructions for how to update or upgrade your crypto currency wallet using an update needed for Popular Coin.
1: Make sure that you save a backup of your wallet.dat file just in case you have issues with performing the update. – To save a backup, open your PC or Mac wallet and click the 'File' tab and select "Backup Wallet". For a full tutorial on how to backup your wallet or even how to reinstall your backup click here.
2: Now that you have a backup made goto the wallets page and download the new wallet. For the newest version of the Popular Coin wallet Click here and select the wallet download for your preferred OS (PC or Mac). Now that you have your new wallet downloaded you will have a .zip file that contains the new wallet version. Now open the zip file and save the raw PopularCoin-Qt-vX.X to a folder on your desktop, or even just save it onto your desktop.
3: Now that you have the new Popular Coin Wallet Qt saved to your machine, make sure that you close the old wallet from running. Once the old wallet is closed and is definitely no longer running, click and open the new Popular Coin Wallet Qt.
Congratulations!
You have now Updated or Upgraded your Popular Coin Wallet Qt!
That was easy right?!
*To double check that you have completely upgraded your wallet click the 'Help' tab, and then select "Debug Window" in the Debug Window in the 'Information' tab you will be able to see the current version of the wallet! If it says v2.3.1.0 (At the Time of Writing this Tutorial) then you know that you have performed the update or upgrade correctly.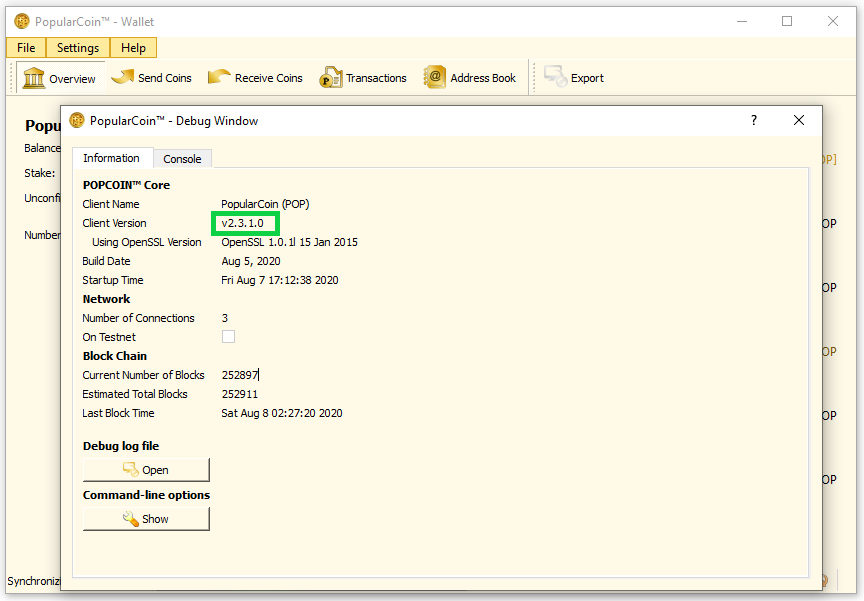 Now you can delete the old wallet file and you have fully completed the update!